Farewell to Greg Woods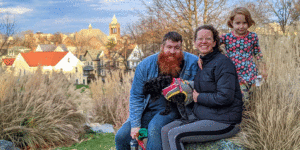 You are invited to a farewell celebration for Greg Woods, Youth Ministries and Education Coordinator, and his wife, Jenn Bonsall, and daughter, Margaret Rae. Greg, Jenn, and Margaret Rae are moving to Minneapolis to start a new chapter in their lives closer to their family. This celebration is an opportunity to express our gratitude for Greg's work and the presence of this special family within our FMC community. Everyone is welcome to join in the fun, the appreciation, and the fellowship! Children are especially encouraged to join. We look forward to your participation in wishing them all a fond farewell.
Contact: Jan Nisenbaum at clerks@fmcquaker.org
To participate on Open Zoom, click here. Or open a Zoom app and enter the Meeting ID: 783 475 1861 and Passcode: 1652. To attend by phone dial (929) 205-6099 and enter the Meeting ID: 783 475 1861. No passcode is required.