How did I get here? Let's share stories of traveling in the Quaker ministry.
("travelers" and "non-travelers" welcome!)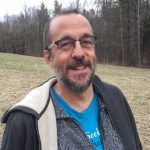 Please join Chuck Schobert for a time of listening, sharing, and worship about what is rising in the heart and soul of our Meeting. Chuck is traveling in the ministry through Friends World Committee for Consultation (FWCC). He has a leading to travel across branches of Quakerism, addressing prophetic ministry, convergent Friends, and spiritual deepening.
Light refreshments will be served. Join us on Friday or Saturday or both. Childcare available upon request for either or both events by contacting Greg Woods youthministries@fmcquaker.org, but please notify Greg that you need childcare by September 14th.