New and experienced friends are invited to Exploring the Quaker Way — a course that acts more like an adventure! The four-week series, facilitated by Minga Claggett-Borne and Sadie Perrin, will be on Sunday evenings from 6:30 to 8:30pm.  October 14 and 21 we will meet in the Friends Room.  October 28 and November 4 we will meet in the Committee Room.  We will be looking at Quaker worship, prayer, witness, history, and discernment.
Please sign up to attend the series by clicking the button below and filling out the form:
Topics and corresponding book chapters are: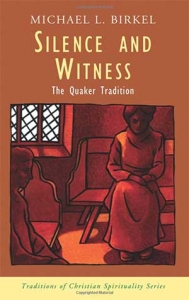 The book for this series is Silence and Witness — The Quaker Tradition by Michael Birkel.
To order Silence and Witness, you can purchase it for $18 at Amazon. Birkel's book will also be available in early October for those who register for the series. Cambridge Meeting will purchase 10 books, free-will donation. Other supplemental readings and videos will be available for further inquiry.
---
For more information contact Minga Claggett-Borne and Sadie Perrin at intro@fmcquaker.org.