First Day School News
First Day School Schedule for January:
Sunday, January 3, at 9:00am: A Special Story for Epiphany (Three Kings Day celebrated January 6). Did you ever wonder what happened when the Three Wise Men returned home after visiting Bethlehem? Ghanda Di Figlia, a faithful FMC member for many years before she passed away, wrote a delightfully illustrated book describing what the Three Wise Men encountered when they went back to their villages. Richard Barran will be sharing his rich voice and love of reading as he narrates the story. Please come join Richard and the Pastoral Care Team as we celebrate the season and remember Ghanda.
Sunday, January 3, at 12:30pm: Family Worship. Join us in this latest virtual worship experiment for kids and adults of all ages. This month's theme is "Letting Your Light Shine…The Day You Begin." We hope to have some special story readers this month. We'll also sing, play a new active game, pray with our bodies and then settle into a short period of waiting worship so we can experience anew how worship ties us together. If you wish, bring a snack to eat (or your whole lunch)!
Contact: Kim West at family-worship@fmcquaker.orgContact: Kim West at family-worship@fmcquaker.org.  To participate on-line, click here. Or open a Zoom app and enter the Meeting ID: 783 475 1861 and Passcode: 1652. To attend by phone dial (929) 205-6099 and enter the Meeting ID: 783 475 1861. No passcode is required.
Sunday, January 10, 9:30-10:00am: FDS for Preschoolers. This Sunday, we will read a fun story Nina and talk about truth-telling. Please join us for a story, singing, and general fun. While this is geared for preschool-age children, all are still welcome to join!
Sunday, January 17, 9:00-9:30am: Elementary and Middle School First Day School
Sunday, January 24, 9:30-10:15 am:: FDS Godly Play Story Time for All. On Fourth Sundays of the month we are trying something new. We will have an all-ages gathering at 9 am with a pre-recorded Faith & Play or Godly Play story. This month's Godly Play story will be on Rev. Dr. Martin Luther King, Jr. Godly Play stories are told in a way to help people of all ages wonder. We will keep these sessions to 30 minutes so people can go to Forum if they like. This will be an all-ages time to hear a story and reflect as a community.
Sunday, January 31, 9:30-10:15am: Conversation with Tenaja Henson. This class will be aimed at elementary/middle school youth, but all are welcome. Ten is a queer Quaker activist of color. We will be talking about Ten's QuakerSpeak video "Following a Spirit-Led Call to Activism".
To participate in the FDS Zoom events, click this link or call 1-646-558-8656 and provide the Meeting ID 838 2538 6231 and passcode 217962.
---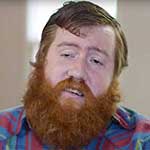 Greg Woods, Youth Ministries & Education Coordinator
youthministries@fmcquaker.org or 413-251-6512
---
Seeking Help with FDS
The First Day School Curriculum Subcommittee and I are rethinking how we are doing First Day School this fall. One of the ideas for engaging families is through asynchronous videos of activities they could do as a family on their own time.
We want to invite the larger FMC community to think about creating a video showing something you like doing, like an art activity, music, educational tour around your neighborhood, or cooking.
Also, if you do not want to videotape yourself or do not have the capabilities, what about showing something through a series of photos? I am happy to help think through ideas. If you want to be a part of this experiment or have questions, please let me know!
---
Other Opportunities with New England Yearly Meeting
New England YM is the regional body of Quakers that our meeting is part of.
Parents' Tea & Chat – Thursdays at 8 pm
Update about Yearly Meeting programming for elementary and middle school youth
Update about Yearly Meeting programming for high school youth
---
Talking about Racism and Current Events with Children
Here is a resource from one of our favorite podcasts Story Pirates.
---
Resources to Share Among the FMC Community
Out of the Parents' Meeting there was a desire to share resources that have been helpful for parents in the community. Here is a Google Document to share resources.
---
Resources
---
I have been reaching out to a lot of our families and I will continue to do so, but if I can be of any assistance, please let me know! I am happy to just listen!
Thinking of you all!
Greg