First Day School News
Sunday, April 4, 2021, 12:30 pm: Join us on Easter in this latest virtual worship experiment for kids and adults of all ages. This time we're going to explore the theme: "So What's with the Eggs?" We'll sing, hear two stories–one about Easter and the other will be the telling of a children's story about Ukranian Easter eggs, have a couple fun activities and settle into a short period of waiting worship before enjoying a virtual Easter Party on Zoom complete with spring gift bags for kids to open.
Sunday, April 11, 2021. 9:30 am Preschool First Day School. This week, in the Preschool First Day School, we will read the book Sacred Song of the Hermit Thrush, and then we will talk about the importance of telling the truth.
Sunday, April 18, 2021, 9:30 am Elementary & Middle First Day School. We will be talking again about school mascots and the movement to ban Native mascots at public schools in Massachusetts. This is part of our initiative this year in FDS to learn about indigenous people in response to the yearly meeting's request for local meetings to be in right relationship.
To participate in the FDS Zoom events, click this link or call 1-646-558-8656 and provide the Meeting ID 838 2538 6231 and passcode 217962.
---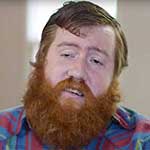 Greg Woods, Youth Ministries & Education Coordinator
youthministries@fmcquaker.org or 413-251-6512