First Day School News
Here is the link to the FDS Newsletter for Sunday, October 25.
Friday, October 23, 6:30-7:30pm NEYM Quaker Family Night Led by Our Own Family Worship Team. Click here.
Here is the link to the FDS Newsletter for Sunday, October 11.
Read the FDS Newsletter for October 4, 2020, here.
The FDS teachers (Patti Conty and Beth Fuller) and I made the first asynchronous video for both the FDS and the larger meeting community on making an origami paper cup. In the future, there will be more Quaker content in these videos. We wanted to just start out with a simple activity for the first video.
I hope to make a series of these videos, so if you have ideas please let me know.
---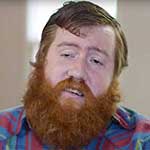 Greg Woods, Youth Ministries & Education Coordinator
youthministries@fmcquaker.org or 413-251-6512
---
Seeking Help with FDS
The First Day School Curriculum Subcommittee and I are rethinking how we are doing First Day School this fall. One of the ideas for engaging families is through asynchronous videos of activities they could do as a family on their own time.
We want to invite the larger FMC community to think about creating a video showing something you like doing, like an art activity, music, educational tour around your neighborhood, or cooking.
Also, if you do not want to videotape yourself or do not have the capabilities, what about showing something through a series of photos? I am happy to help think through ideas. If you want to be a part of this experiment or have questions, please let me know!
---
Other Opportunities with New England Yearly Meeting
New England YM is the regional body of Quakers that our meeting is part of.
Parents' Tea & Chat – Thursdays at 8 pm
Update about Yearly Meeting programming for elementary and middle school youth
Update about Yearly Meeting programming for high school youth
---
Sunday, October 25
Anti-Racism Webinar for Parents /Caregivers
Raising Race Conscious Children is hosting an interactive Workshop/Webinar for Anti-racist White people on October 25th at 8 PM, EST (and Follow-Up Webinar on November 1st).
For more information: go here
*If the cost is prohibitive and you want to attend, please let me know*
---
Talking about Racism and Current Events with Children
Here is a resource from one of our favorite podcasts Story Pirates.
---
Resources to Share Among the FMC Community
Out of the Parents' Meeting there was a desire to share resources that have been helpful for parents in the community. Here is a Google Document to share resources.
---
Resources
---
I have been reaching out to a lot of our families and I will continue to do so, but if I can be of any assistance, please let me know! I am happy to just listen!
Thinking of you all!
Greg