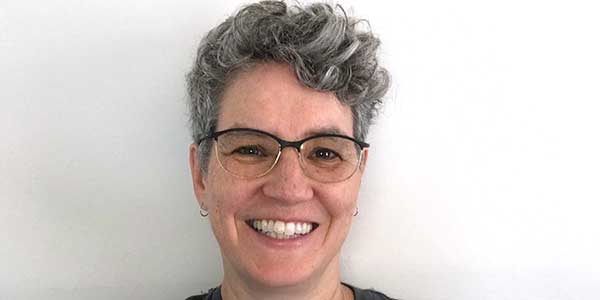 LJ Boswell
Resident Friend
In collaboration with FMC members, committees, groups, and staff, LJ is involved with all aspects of the FMC community. In living and working in the center of the Meeting they function, among other things, as a bridge builder, helping folks navigate this large meeting and connect more deeply with the FMC community. With a Masters in Divinity and years of experience as an administrator and educator, they are well prepared for this work. LJ has been with FMC since 2017.
LJ lives on-site, so you will likely see them often. When you do, LJ invites you to say hello, tell them about yourself, ask questions about FMC, and share your experiences and suggestions for FMC. In other words: they are hoping to get to know you, assist you on your spiritual journey and help you settle more deeply into our community and your spiritual journey. They would also love to hear any feedback you have for how FMC can improve.
LJ is usually working at FMC Sundays through Thursdays. Their hours vary each day depending on the needs of the community. They are usually off and unplugged from FMC on Fridays and Saturdays. Contact LJ at resident@fmcquaker.org or 617-876-1868.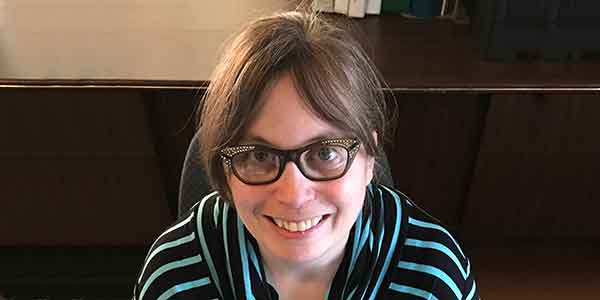 Amy Mercure
Office Manager
Amy's responsibilities include being the helpful voice on the phone and the cheerful presence behind the desk for callers and visitors to FMC. If you're a newcomer looking for general information, part of an FMC group needing help to schedule space for an internal event, or if you're in need of something else, please don't hesitate to reach out to her. Amy has been with FMC since 2017.
Amy is available by phone M-F from 10:00am-3:00pm and in the office M-F from 8:00am-4:00pm. She can be reached at office@fmcquaker.org | 617-876-6883.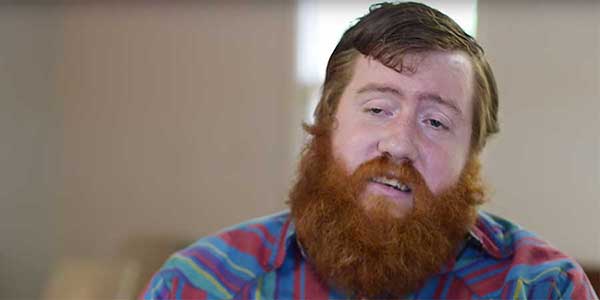 Greg Woods
Youth Ministries and Education Coordinator
As a lifelong Quaker Greg has a passion for working with youth. Prior to working at FMC, he worked in campus ministry and service-learning.
In his position, Greg works with the youth all the way from nursery to our high school students. He also oversees the numerous volunteers and childcare staff that makes FMC youth programming possible. He loves to interact with youth of all ages and finding ways to include youth and their families into the overall life of the meeting. Greg has been with FMC since 2018.
Greg lives in Allston with his wife Jenn and toddler Margaret Rae and their cat Tuesday.
He is always happy to talk with you about youth at FMC. He is usually in the office Monday through Thursday 9 AM – 5 PM and around the meetinghouse on Sundays. Please feel free to contact Greg at youthministries@fmcquaker.org | (413) 251-6512.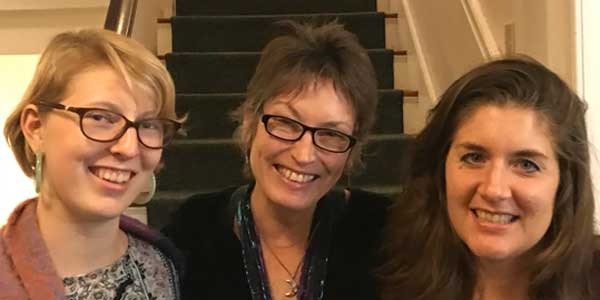 Center Residents
Annalise, Nancy, and Micaela
Our Center Residents are our partners in keeping Friends Meeting at Cambridge a welcoming place to worship and visit. You'll see them most open evenings and weekends hosting at the front desk. They support our members and guests by helping them find their meetings and offering help when needed. Center Residents also help us keep the building and grounds clean. They are deeply appreciative of all our groups who help by cleaning up after their meetings so the rooms are ready for our next guests. Stop by and say hello next time you are in!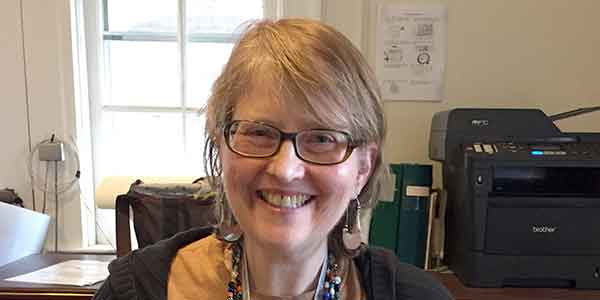 Betsy
Saturday Morning Office Staff
Betsy is the smiling face of Saturday mornings at Friends Meeting at Cambridge. Betsy is an active member of FMC and a talented artist in her free time.
Mei Ming Cornue-Hollander and Caitlin Peters
Nursery Staff
Mei currently lives in Brookline where she also works as a paraprofessional in the RISE program at the Runkle School. She completed her undergraduate degree at Brandeis University in sociology and elementary education in 2013. She received her elementary education license during her undergraduate studies. She is in the final year of her graduate studies at Boston University for moderate and severe disabilities. She looks forward to continuing her work with all different families and children.
Caitlin is currently a graduate student in the Elementary Education program at Boston University. In May, she will be licensed to teach children between the 1st and 6th grade. This is an exciting career change for her as she previously worked in various business roles after graduating from Bentley University in 2012. She is very excited to continue working with children as a Nursery Teacher at FMC! In her spare time, she enjoys reading, hiking, running and spending time with her family and friends.