Business Meeting, 1:15pm, Sunday, May 6
June Newsletter Due, Monday, May 14
June Minutes & Reports Due, Monday, June 4
Announcement Sheet Due, Mondays at midnight
Threshing Sessions on the Future of the Meeting
We had three very lively threshing sessions in April to explore the future of FMC. The sessions covered a review of the past, an exploration of what we value about FMC, and an examination of several dilemmas that FMC is currently facing including the fact that our expenses consistently exceed our income. A total of over 100 attendees in the 3 sessions shared their input; people expressed how quickly the sessions went and how much they wanted to keep talking. The Planning Group will synthesize these conversations and report back to the Meeting. May Meeting for Business in Worship will emphasize finances; please consider attending to make sure your unique viewpoint and ideas are heard!
Good Friday Witness for Peace
Held annually since the early 1960s, folks from FMC held a meeting for worship on the Boston Common with most standing in silence, some holding signs or banners. A leaflet was also distributed to those passing by. The theme this year was the Poor People's Campaign. Click here for additional information about the Poor People's Campaign: a national call for moral revival.
All-Meeting Retreat, March 20-22, in Alfred, ME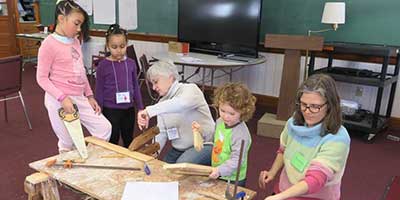 Member Mary Spitzer, North Shore sculptor and woodworker, helps the children in the retreat program use clamps to hold wood steady while working on it. Twice in the last three years Mary has offered her "unprogrammed" woodworking class during the all-meeting retreat by bringing tools, supplies such as glue and sandpaper, lumber, and techniques for putting wood together. Students, (adults and kids) bring an idea for something they'd like to make and Mary tries to match the techniques to the project.
Youth Ministries and First Day School Events
Greg Woods, Youth Ministries and Education Coordinator, hit the ground running with youth programs and First Day School. Here are some highlights: