October Minutes & Reports Due, Monday, October 8, 2018
October Business Meeting, 1:15pm, October 14, 2018
October Newsletter Due, Monday, October 15, 2018
Announcement Sheet Due, Mondays at midnight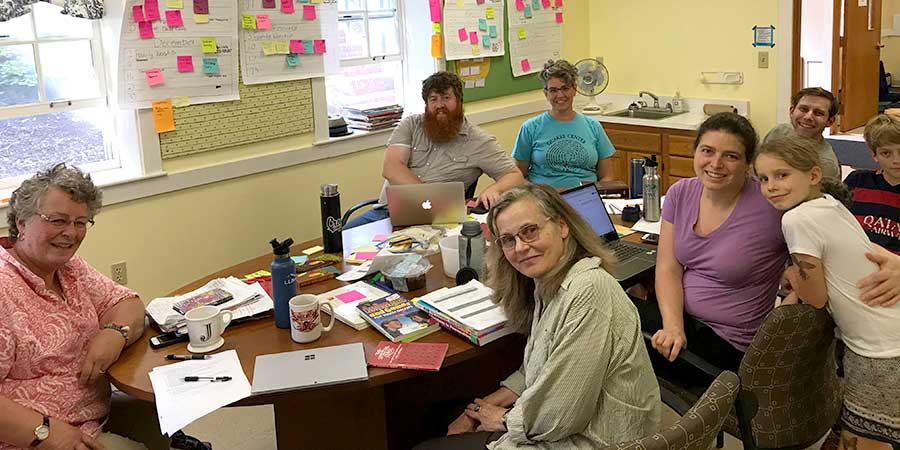 The First Day School curriculum development group
The first two weeks of the new school year have gone well. On September 9, the First Day School and Youth Programs Committee hosted a great breakfast for youth, their families, and teachers. About 50 people came to that, including a new family. Overall that day between the breakfast, nursery, First Day School, Teen Worship, and Meeting for Worship, we had 31 youth in the building. The next week, on September 16, we had 21 youth between First Day School and the Nursery and yet another new family. I am excited about the attendance so far.
The curriculum has been going well so far and I am talking with parents as we go along. We have made some minor adjustments, such as having a shorter initial time as the whole group and singing, then dividing up so that Pre-K through 2nd Graders have time together as a separate group, and finally coming back as a whole group to end in silence.
The Curriculum Planning Group had a fantastic and productive meeting together on Saturday, September 15, where we continued working on the school year and mapping out sub themes to go along with the overall theme of Journeys. Right now, we are talking about Welcoming and the theme for October and November will be Agents of Change.
If you are interested in attending the Curriculum Planning Group or volunteering with the First Day School program, please let me know! I am always happy to have more people involved.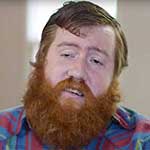 Greg Woods, Youth Ministries & Education Coordinator
youthministries@fmcquaker.org or 413-251-6512
A New Look for the Friends Center Entry Way!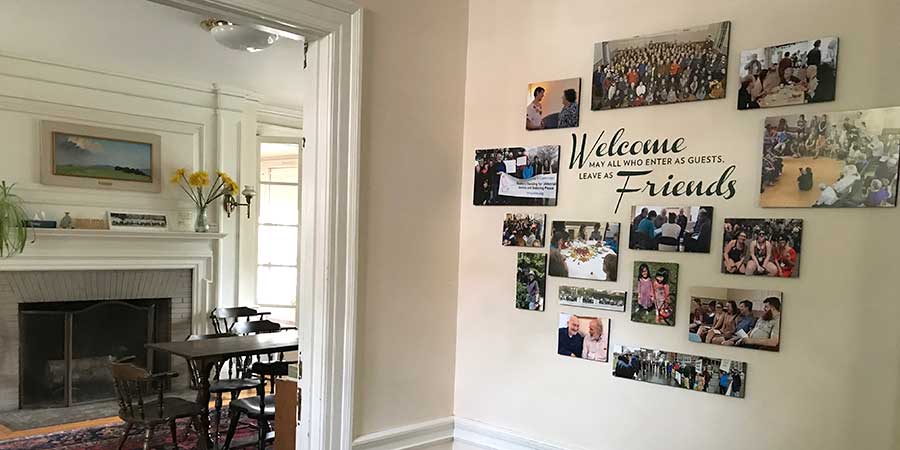 Everyone is excited about the new entry way. More changes to come!
Stone of Hope Drumming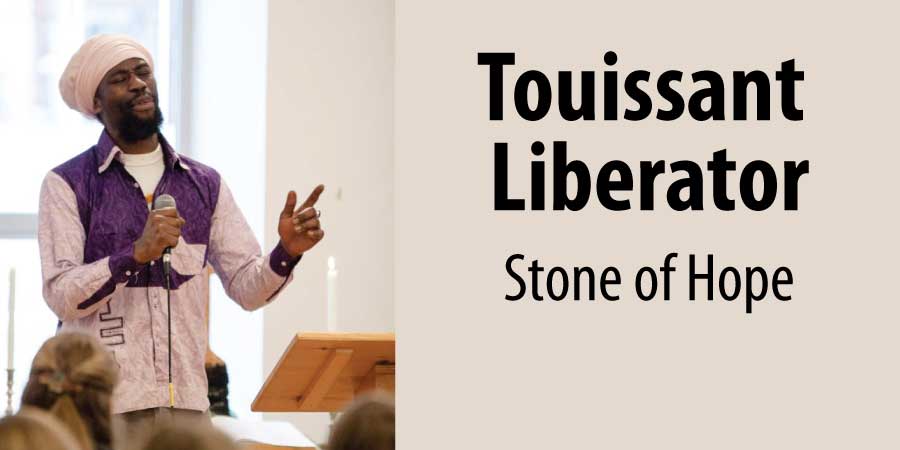 Touching the Inner Spirit with a Beat. Drumming with Toussaint Liberator continues on Thursday evenings from 6:30 pm-8:00 pm in the Meetinghouse. Donations for our teacher are requested, $0 to $20 as you are able for FMC Community and $10 – $20 outside FMC.
From our participants:
Drum Circle is a highlight of my week. I always feel better after our time together. When I was young I loved participating in music. This is my first time making music as an adult. While I'm well into middle age, learning to drum with Toussaint and the drum circle makes me feel young again. Toussaint is a wonderful teacher and the group has been steady. We all feel inspired and encouraged. We've been learning together to drum and to talk about race and racial justice. Making music and being together every week allows us to approach hard conversations and to get to know one another over time. I hope we will continue a long, long time and that we will branch out from making music and getting to know one another to including others in our circle and moving out of the circle to act on the ideas we are sharing about social and racial justice.
This is one of the most important things in my life!"
The drumming circle is soothing and restorative. I work stopping abuse in families. My job is stressful and listening to the news raises my blood pressure. How amazing to have found a panacea to daily stress. Thank you Toussaint for offering the healing that drumming offers us. It's music therapy, exercise and laughter rolled up together.
For more information, contact Gail Rogers or Ian Harrington at stone-of-hope@fmcquaker.org
Bolivian Quaker Education Fund (BQEF)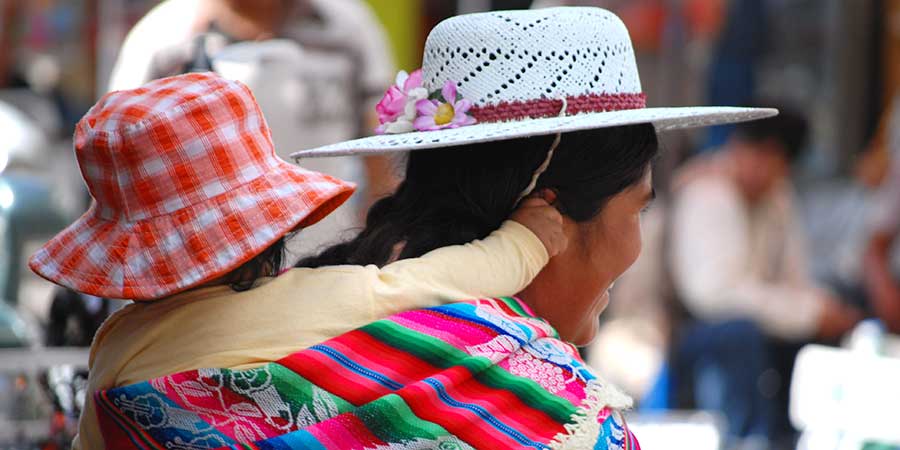 Update on our support of a Bolivian Quaker Student. Many thanks to those who have contributed to sponsor Quaker Bolivian students over the past several years. Our FMC sponsorship of $850 through individual donations this year will enable a Quaker student from an impoverished background to complete college training. Our most recent student, Ximena Mendoza Limachi graduated and we are ready to be assigned another from a waiting list.
The fund, administered by Friends in Fredonia, New York, is organized by volunteers. We have previously sent in contributions individually. We are now asked to collect checks and forward them as a group to simplify bookkeeping. Please send your contributions made out to Bolivian Quaker Education Fund to the FMC Office at 5 Longfellow Park, Cambridge, MA, 02138.
If you have questions, please contact Richard Barron at bqef@fmcquaker.org.
Pastoral Care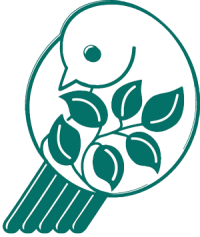 Our FMC Community of Hope provides the following types of care and support to individuals within our community:
a Friendl