June Business Meeting, 1:15pm, June 10, 2018
June Minutes & Reports Due, Monday, July 9, 2018
September Business Meeting, 1:15pm, Sept. 9, 2018
September Newsletter Due, Monday, August 20, 2018
Announcement Sheet Due, Mondays at midnight
Summer Announcement Sheet will be published every two weeks until September: June 25, July 9, July 23, August 13, August 27
Thank you to everyone who helped in the First Day School!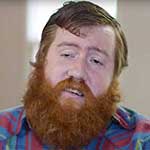 Greg Woods, Youth Ministries and Education Coordinator, has been in his position four months as of June 1st and has been having a great time working with our wonderful First Day School teachers and nursery workers. We have a deeply committed group of volunteers and workers who care for the spiritual and personal growth for our young people all the way from a couple weeks old to 18 years old. We wouldn't have an amazing program without them.
Nursery:
Coordinator- Pearl Kerber
Nursery and FDS Assistant – Lydia O'Connor
Teen Workers: Tyler Dyer, Eddy Fleming, Elias Kern and Rachel Myers
Volunteers: Raymond Aucoin, Barbara Cannon, Nancy Cirillo, Patricia Conty, Mary Gilbert, Maureen Lanan, Holly Lapp, Polly Stevens, and Andrew Szanton
First Day School:
Pre-K through 2nd Grade – Patrica Conty, Paul Dobler, and Jim Serdy
3rd through 5th Grade: David Anick, Patricia Huff, and David Smith
Junior High: Beth Fuller and Scott Heald
Teen Worship: Nancy Bloom, Andrea Condit, and Maeve Whitty
Substitutes: Patti Muldoon and Tim Watkins
We give a big thank you to Gail Rogers who served for 7 months as the Interim Coordinator. She has been a great asset in keeping the program going strong between Coordinators, and she has been a fantastic resource while Greg has been getting to know this position.
Lastly, we want to give thanks to our Nursery Coordinator Pearl, whose last day is June 17th. She has been a wonderful presence in the Nursery for the last two years, and she is loved by the children. She has been in Cambridge for a Master's in Education program at Lesley University, which she graduated from on May 19th. She will spend the summer directing a camp on Cape Cod and then move to Charleston, SC, to be with her fiancé, Liam.
Join us on Sunday, June 10, for cake and refreshments to celebrate the end of First Day School!
Poor People's Campaign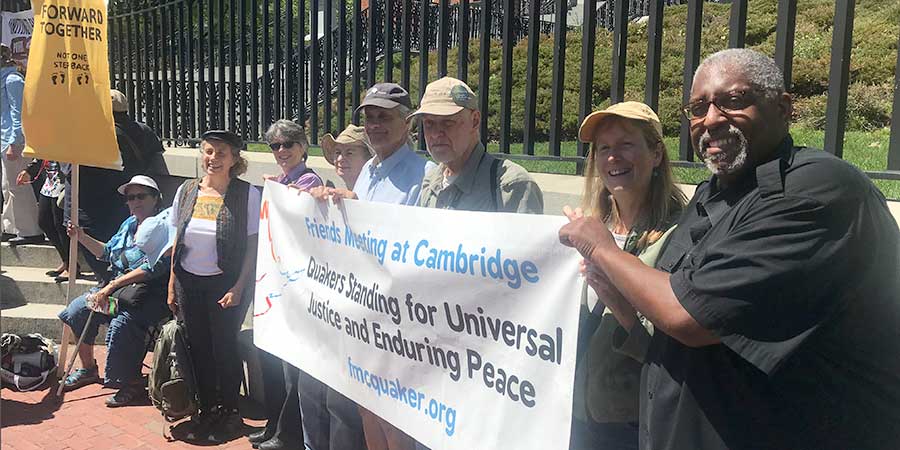 Several individuals in the FMC community are involved in the local vigils and rallies that are part of the nationwide Poor People's Campaign. These will continue through most of June. To learn more and/or to get involved contact John Bach 970-209-8346, bolder@fmcquaker.org. Click here for additional information about the Poor People's Campaign.
FDS Students Make Sandwiches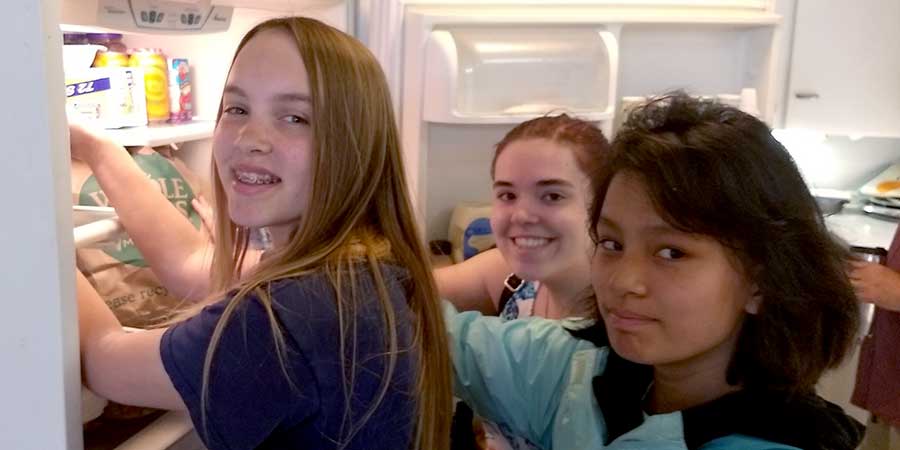 On Sunday May 20 First Day School and Teen Worship joined and made more than 80 sandwiches for Liam's Love and the Outdoor Church, two outreach programs serving people living outside in Cambridge. The youth group helped deliver some of the sandwiches and afterwards shared a meal together in Harvard Square.
Boston Pride Parade June 9 12:30pm
Join FMC at the Pride Parade! Our line up location is 800 Boylston Street by the Prudential Center (across from Sir Speedy)
Please gather there at 12:30pm to ensure time to find us. The latest you can arrive and still join the group is 1:15PM. Our group's marshals will be there earlier (10:25 check-in time) so you are welcome to arrive any time in that window, but after 1:15 the parade will not be held up for you to join us!
Small signs and colorful clothing encouraged! Bring water, sunscreen, and anything else you might need for a long day outdoors. The event is RAIN OR SHINE and the route is 2.27 miles long so comfortable footwear is also recommended.
The FMC 2018 Fiscal Year Ends June 30!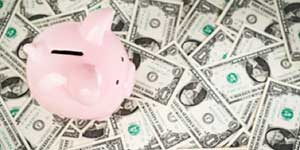 The end of the 2018 fiscal year is almost upon us (June 30, 2018) and our donations are not showing up as reliably as our expenses. As of April 30, we are about $51,000 short of our annual budgeted contributions goal of $230,000. If you value what the FMC community provides you, please help close this shortfall with a generous gift. Thank you from the Fundraising Committee. Please consider a donation to the Meeting if you've been putting it off, or an additional gift if possible. There are many demands on our charitable giving, but please consider what the Friends Meeting at Cambridge community provides to you and make a high priority donation before the year ends. —Thank you from the Fundraising Committee
Welcome our new YAF Coordinator!
We are pleased to welcome Miranda Henne as our new Young Adult Friend (YAF) Coordinator. YAFs are loosely defined as being between the ages of 18 and 35ish. She is a professional cellist. Miranda has been a part of FMC for 3 years now, and among many other things, was our cellist in this past winter's Christmas pageant. Miranda is excited to not only welcome new YAfers and coordinate YAF events, but also to be a bridge and point of connection between our Young Adult Friends and the rest of the Meeting. When you see her around, please be sure to introduce yourself. Her email is yafcoordinator@fmcquaker.org
Save the Date!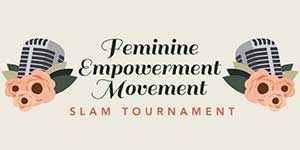 FEMS Poetry Slam October 19-21, 2018. FEMS is a grassroots poetry slam movement that hosts a tournament every October in Cambridge, MA. We we were so grateful to launch with FMC in 2017 and are excited for year two alongside