These Walls Between Us
Tuesday, October 5 at 7:00 pm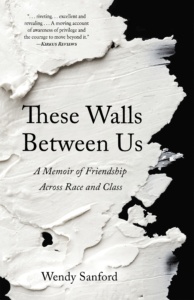 Long-time FMC member Wendy Sanford followed a thirty-year leading to write honestly and thoughtfully about issues of race and class in her life as a white woman. The resulting book, These Walls Between Us: A Memoir of

Friendship across Race and Class comes out from She Writes Press on October 5. Wendy writes, "I am grateful for the many Friends who have held me in love as I've sought to be faithful to this leading. I'd love to see Friends at the launch on the October 5th publication day, where Brian Corr of FMC has kindly agreed to help me present the book and lift up some of the issues it raises.
Click here to see the flyer for the virtual book launch event hosted by Porter Square Books.
For more on "These Walls Between Us," you might want to visit Wendy's website