September Minutes & Reports Due, Monday, September 3, 2018
September Business Meeting, 1:15pm, Sept. 9, 2018
October Newsletter Due, Monday, September 17, 2018
Announcement Sheet Due, Mondays at midnight
2018 Senior Forum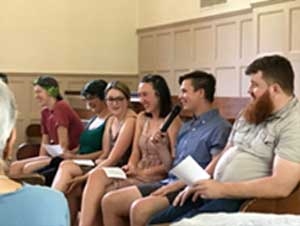 On a beautifully summery afternoon on Sunday, June 17, 2018, over 70 family and Friends gathered in the Meetinghouse for the annual forum to celebrate our high school Seniors. Five youth attended: Izzy Thorndike, Callie Reagan, Rachel Myers, Lizy Szanton, and Tyler Dyer, with Youth Ministries and Education Coordinator Greg Woods. A sixth Senior, Robbie Watkins, was unable to attend but was with us in spirit. Izzy, Rachel, Lizy, Tyler, and Robbie all grew up in FMC while Callie discovered FMC just this past fall, after being introduced to Quakerism at Friends Camp in South China, Maine. These thoughtful young adults shared many memories of family and youth retreats, Christmas pageants, pie-baking, sandwich-making and more. While we are pleased to share some highlights here, we hope you don't stop here, but rather use this as a jumping-off point to strike up a conversation with these young adults or others at FMC and in your lives.
In reflecting on what they would take with them as they go out into the world, the teens shared that their Quaker experience has helped them develop skills of listening, understanding, and being open-minded to the perspective of others, especially in diverse settings. One remarked that Quakerism's tradition of Seeking and the lack of a clear creed helps frame uncertainty as a strength and not a weakness. Another shared that the testimonies have provided a strong moral foundation and a sense of social justice. Several remarked that the various retreats for families and Young Friends were instrumental for teaching and modeling Quaker practices, and for providing spaces where they could be silly and irreverent while developing trust and vulnerability with others.
The teens had rich reflections on Quaker decision-making process, and credited the Young Friends Retreats for teaching them how it works. They recognized that it is really helpful to learn how to consider all aspects of a dilemma, but wonder if sometimes it goes on too long with no endpoint. One suggested that we find ways to practice decision-making with middle school and even younger children.
The teens suggested that FMC could do more to improve communication between youth and adults. They invited adults to come be part of the high school meeting for worship, or to match youth with adult mentors, particularly those in college or recently graduated. They noted that family retreats were a wonderful way to make connections with other adults, and wondered why other intergenerational events don't draw as many teens. Some of the teens have worked in the nursery and/or served on committees. However they suggested that FMC could still do more to invite youth to be an active and integral part of the life of the Meeting.
One teen shared that they really liked how teen worship meets on alternate weeks, serving as a bridge to a deeper experience in the Meetinghouse on the weeks in between. Another noted that while we are taught that Quakers eliminate the intermediary with God, we could do more to provide a pathway for those who need more guidance, for example by engaging younger kids in concrete practice about being in Meeting for Worship.
Another teen observed that while there is a deep commitment to anti-racism among Quakers, it seems difficult for Quakers to approach it in a productive way since our community is so white, and they challenged us to do more work on that. Similarly, a teen challenged us to explore more of the complicated feelings people have related to violence, rather than shutting down discussion by standing too quickly with a 'non-violence' response.
And on a more light-hearted note, two teens suggested we should do more singing together!
The teens also fielded some very thought-provoking questions from the friends and family attending the Forum, such as:
Have you spoken in Meeting? If so, what was it like?
How aware are your friends that you are Quaker, and what do they know about being Quaker?
Is there a moment or a story where you experienced the Holy/God/Spiritual Mystery/Beloved?
How has FMC contributed to your sexual education and ability to develop healthy relationships?
How can we as a community support you as you go forward?
In the spirit of keeping this article brief, I will only say that their answers were truly wise and thoughtful, and I encourage you to ask one of the teens yourself the next time you see them!
Thanks again to Greg Woods for your expert facilitation, to the families and friends who have helped raise these wonderful young adults, and to all at FMC who contribute to the upbringing of all the young people at FMC. And most importantly, THANK YOU to our Seniors for sharing so deeply and honestly with us! It was truly a gift. We all wish you the best with what comes next, and we hope you will come back and continue to share your lives with us at FMC!
If reading this has inspired you to consider volunteering with FMC teens, youth, or children, please reach out to Greg Woods, our Youth Ministries and Education Coordinator, for more information at youthministries@fmcquaker.org
Article submitted by
Andrea Condit
Gardening and Landscaping at FMC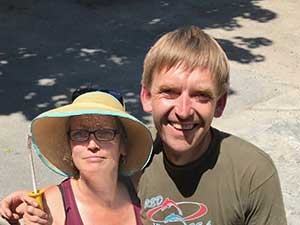 I would like to introduce myself, Nancy Hewitt, and Robert Szudra, two members of the Gardening and Landscaping Committee. We have been involved with several projects this year.
We mulched a good portion of the property last year and plan to complete the project while adding more to some areas. We assisted the First Day School in planting more flowers in new pots to add to the Meetinghouse grounds and a family of bunnies was raised in one of them until they had their eyes open. We have been weeding, pruning and planting on the grounds. Two new Mountain Laurel shrubs are now planted along the fencing. They seem to be doing very nicely and will grow up to 8 – 10 feet high! The front lawn needs de-thatching and we hope to get estimates on that and perhaps some transplanting and bulb planting this autumn. We also hope to do some socializing in the fall and winter months.
Anyone interested in becoming part of the gardening committee is welcome. There are large-team jobs and small/single jobs you can join in on. Please feel free to contact me at gardening@fmcquaker.org, if you would like to lend some time to our lovely sanctuary.
Nancy Hewitt
Clerk, Gardening and Landscaping Committee
FMC at the Boston Pride Parade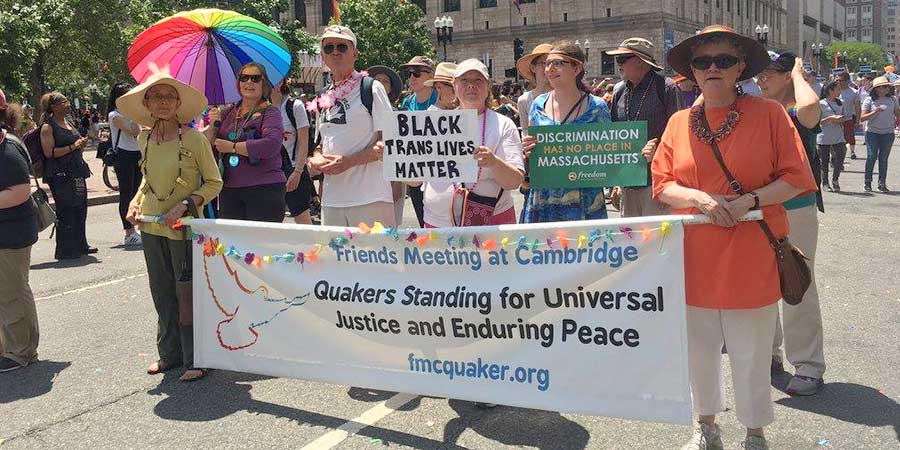 A group from FMC marched in the Boston Pride Parade on June 9, 2018.
Remembering Hiroshima and Nagasaki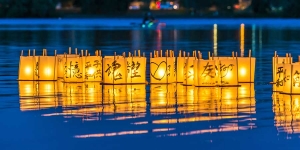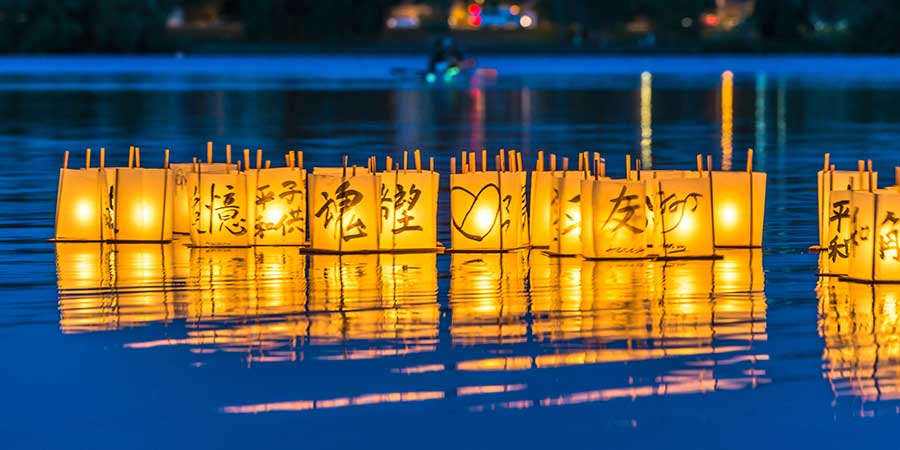 Welcoming Momentum for Peace in Korea
August 5, 2018 on the Charles River.
Protest at Raytheon, August 20, 2018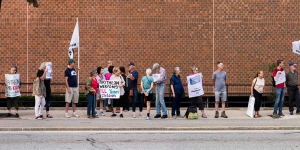 In response to the Saudi bombing of a bus, killing 44 Yemeni children on August 9, our FMC Peace and Social Concerns Committee, along with others from FMC, and Veterans for Peace/Smedley Butler Brigade, Mass. Peace Action, and American Friends Service Committee rallied at Raytheon BBN offices in Cambridge on August 20. Raytheon supplies the bombs and military equipment to both Saudi Arabia and the UAE that makes such savage attacks possible and it has a close and essential relationship to the Saudi Military. Over 70 people, including about 15 from FMC, participated. Readers are reminded that FMC prays for peace outside this Raytheon/BBN facility every third Sunday from 10:45 to 11:45 AM.
First Day School (FDS) Update