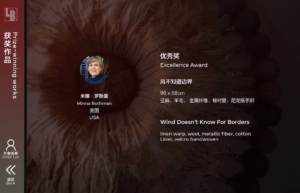 I am honored that my work is included in [probably] the largest international fiber art show in the world: Symbiosis and Coexistence, the 11th 'From Lausanne to Beijing ' International Fiber Art Biennale. The virtual show just opened on January 16, 2021, and will be available until February 16. There is some amazing work to see and it shows what great potentials virtual exhibits can have.
An in-person show is planned for later depending on the pandemic.
Here is the link to the show at the Tsinghua University in Beijing https://lbfiberart.ad.tsinghua.edu.cn. My work is shown in the grouping: Prize-Winning-Work.
Minna
PS The presentation may take a while to download in your browser.
www.MZRStudio.com
FB: Minna Rothman
Instagram: minnarothman