Hiroshima Day 75th Anniversary at Raytheon Technologies
Friends meeting at Cambridge joined with other peace activists to peacefully demonstrate in the parking lot in front of Raytheon Technologies. John Bach read an open letter to Gregory J. Hayes, CEO, Raytheon Technologies, and Wesley D. Kremer, President, Raytheon Missiles & Defense, entitled Tell Raytheon to Cease and Desist From the Development of Nuclear Weapons. Here is the statement.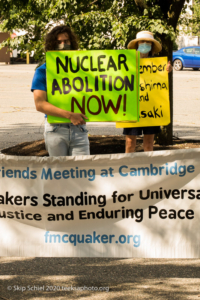 Hiroshima Day—75th Anniversary at Raytheon Technologies
On August 6, 2020, we stood outside the Cambridge office of Raytheon ("The Light of/from the Gods") Technologies, the world's second-largest aerospace-and-defense company by sales and the world's top manufacturer of guided missiles and a leader in missile defense systems. Notably, they sell the missiles to Saudi Arabia which kill hundreds of Yemini civilians. Later we delivered to management a Cease and Desist order to stop manufacturing instruments of war. Organized by Massachusetts Peace Action and other groups including Friends Meeting at Cambridge.
Massachusetts Peace Action News, August, 2020. Crowds Gather in Cambridge for Morning and Evening Programs on the 75th Anniversary Hiroshima Day Commemoration
Arms Control Association, May, 2020. Raytheon to Build New Nuclear Cruise Missile
Quakers Greet Raytheon, June, 2020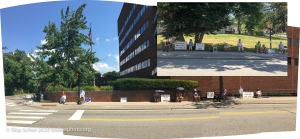 On a bright Sunday following the summer solstice Quaker excitement was electric. Twenty Friends gathered for worship long-distance on the sidewalk near Raytheon Industries equipped with chairs, facemasks and sanitizer. Although worship was deep, I confess my thoughts were tumbling Three elements sizzled in my mind.
Boston Friends have not gathered physically to worship since March 2020. Finally three months later we were called not to our settled quiet worship place, but out to witness by a bustling street.
Our land was still infested with militarism and racism along with a pesky virus that kept many sheltering at home. Black lives matter. The brutality of Raytheon exporting violence in lands of mostly Brown and Black people is a pox on our land just as the police kill people of color in the US.
We chose our first in-person gathering on the Massachusetts sidewalk outside of Raytheon, Cambridge. Friends spread out 6 feet, smeared in sunscreen. We came in humility clear to defund evil. We come with many questions how to rebuild a new land.
Dear Holy One, why do we continue to tolerate Raytheon, a behemoth of stolen wealth and heedless power. Raytheon provides engineers and new equipment to continue the perpetual US peddling of weapons that maim and kill. Raytheon Technologies based in Waltham signed a contract to develop the Long Range Standoff Missile, a new air-launched nuclear weapon delivery system that makes nuclear war more likely. We allow our nation to kill neighbors, often black and brown peoples. These nuclear missiles also destroy lands once full of life in Yemen, Syria and Afghanistan.
On the 75th anniversary of the atomic attack on Hiroshima, we will gather at 9:00 am on Thursday, August 6, on the public sidewalk in front of Raytheon BBN Technologies for the Witness for Peace and Life. Many of the nuclear arms are sold to Saudi Arabia and used as a war against Yemen. We will deliver a demand that Raytheon cease building these deadly weapons and exporting climate destruction.
In worship we call on another power that recognizes green sprouts in the desert. There is a power that covers the Earth with well-being and grace. By asking God's strength to take root next to the brick block building on Concord St. Thousands of years ago God asked people to turn swords into plowsharers so as to feed people. Can we do something similar in 2020? Engineers, with their ingenuity, could be rebuilding new energy systems and much needed medical equipment
Friends are expecting a miracle. In these times of pandemic we need to lean into the work of healing and rebuilding. "He makes wars cease to the ends of the earth. He breaks the defenses and shatters the spear. Any defenses against the enemy will be burned." Psalm 46. "There will be new streams in the dessert, and new hope for the poor." Isaiah 43
Elizabeth Claggett-Borne at Minga@thebornes.org