April Minutes & Reports Due, Monday, April 1, 2019
April Business Meeting, 1:15pm, April 14, 2019, at Cambridge Friends School. Meeting of Cambridge Friends School Corporation, at 1:45pm
May Newsletter Due, Tuesday, April 16, 2019
May Minutes & Reports Due, Monday, April 29, 2019
Announcement Sheet Due, Mondays at midnight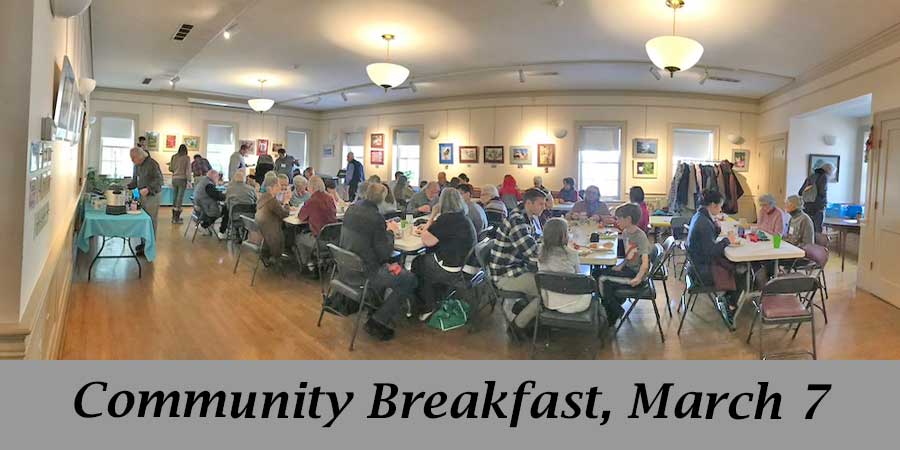 Our first Community Breakfast (renamed from Intergenerational Breakfast) on  Sunday, March 7, was a huge success with over 70 people attending. Thanks especially to the cooks and those who helped set up and clean up. (Panoramic photo from Lorena Boswell)
Jim Serdy, Lizza Vachon and Ian Harrington made delicious crepes and various kinds of pancakes for all.
Staff Evuluations are due Sunday, April 14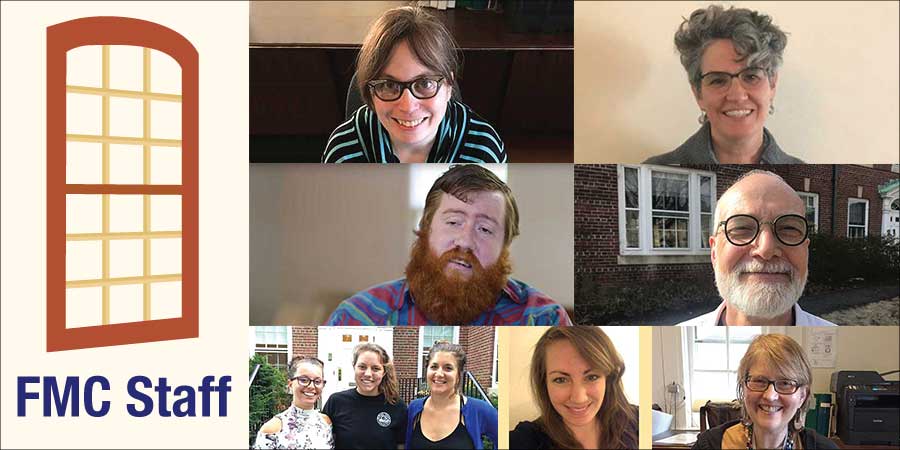 As part of our annual review, we are requesting feedback from all of you who have had interactions with our staff this year. As staff, we would greatly appreciate it if you take the time to offer your perspectives.
Please note: this year's process is different! There are forms for each of the primary staff: Amy Mercure (Office Manager), David Dunphy (Faciities Manager), Greg Woods (Youth and Education Secretary), and Lorena Boswell (Resident Friend). The new forms include both 5 point scales and spaces for comments in different aspects of each person's job. They are easy, interesting and quick for you to fill out. If you don't have time to write comments, please just answer the 5 point scale questions! Of course comments help us understand with more depth what your experience and needs have been and would be greatly appreciated. Forms are available on the cart next to the kitchen in the Friends Center or via email from the Resident Friend, Lorena Boswell, at resident@fmcquaker.org. Annual staff evaluations are a great opportunity for us to hear directly from you about how we're doing, to celebrate where we are meeting your needs, and to learn about how we can improve our service to FMC. Thank you for your time and perspective!
Please return the evaluations for Amy, David and Greg to Lorena. Return the evaluation for Lorena to Jonathan Vogel-Borne at jvb@thebornes.org
Seeking Database Apprentice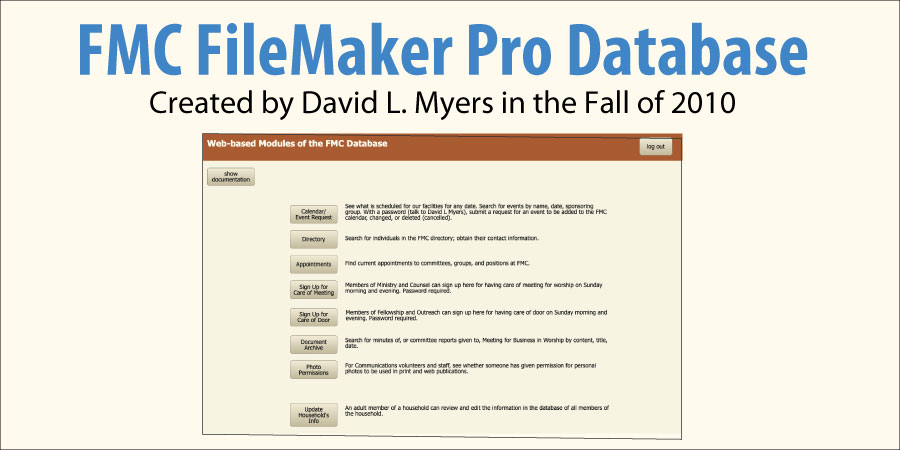 Put your database experience to work in support of a good cause! FMC urgently needs a person to learn our Filemaker Pro database that has been developed and maintained by one person over the last 9 years.  David Myers, also known as the simple lunch guru, is a really cool guy.  Find him in the kitchen any Sunday and check out this opportunity!
New England Yearly Meeting Student Scholarship Grants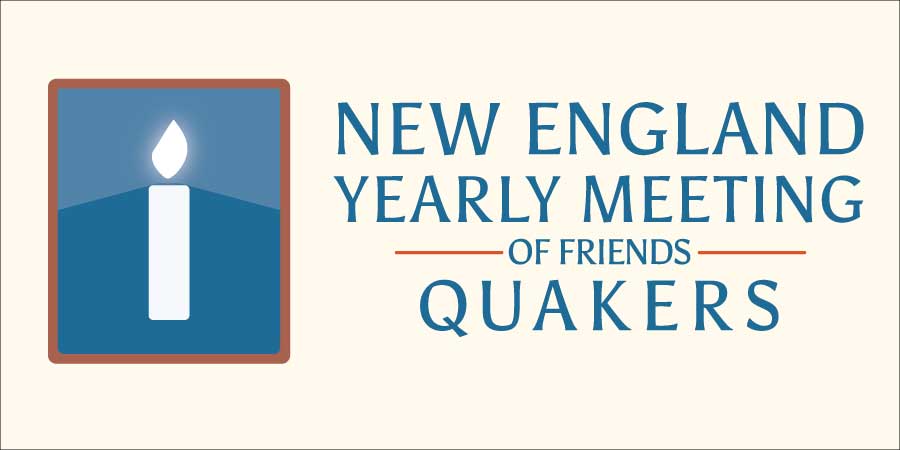 Application deadline: May 15, 2019
New England Yearly Meeting (NEYM) offers grants to students of any age enrolled in post-secondary educational or professional training programs, whether full- or part-time. Awardees are eligible on the basis of spiritual connection to the Religious Society of Friends and participation in NEYM.
You do not have to be a member of a monthly meeting to apply, but you must be committed to Friends' principles and willing to share the role of Quakerism in your life. You should be able to describe in your personal essay what draws you to Quakerism, whether you are an attender or member of a meeting or otherwise connected to Friends. Your references should be chosen carefully to speak to your commitment to Friends principles and your prior participation in the NEYM community.
To apply, complete the Student Financial Assistance application, including a personal statement and two letters of recommendation, one of which must come from the clerk of your Monthly Meeting, a representative of NEYM (for example, a youth programs coordinator or Quaker camp administrator), or a Quaker school teacher or administrator.
For questions and final submission of the application by the May 15th deadline, please contact the NEYM Student Scholarship Grants Committee: neymstudentgrant@gmail.com. Ian Harrington (FMC's Co-Presiding Clerk) is a member of that committee.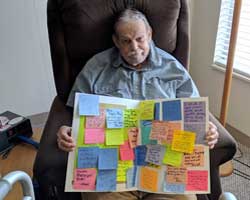 Happy 91st Birthday to Bob Carter! If you might be interested in a worship and visit with Bob, please email Holly Lapp at fellowship@fmcquaker.org for a future date.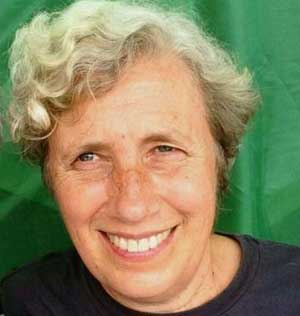 Member Elizabeth (Minga) Claggett-Borne  wrote an article on "Experiments with Worship" that was published in Friends Journal, March, 2019. She says, "The queries are different when worshiping outside a sheltered meetinghouse. Thomas Kelly describes a gathered meeting as when 'A blanket of divine covering comes over a room; a stillness that can be felt over all.' When walking in worship the Spirit is under us, within us, and surrounding us; Spirit is in feet pressing onto root; Spirit is in the sounds of a thrumming city park."
Barbara Owen, a former attender at Friends Meeting at Cambridge, has died. Her memorial will be held at Wellesley Meeting House on Saturday, April 13 at 2:00pm followed by a reception. For further information, please contact Sally Harrison at 339-235-5579.