April Minutes & Reports Due, Monday, April 1, 2019
April Business Meeting, 1:15pm, April 14, 2019, at Cambridge Friends School. Meeting of Cambridge Friends School Corporation, at 1:45pm
May Newsletter Due, Tuesday, April 16, 2019
May Minutes & Reports Due, Monday, April 29, 2019
Announcement Sheet Due, Mondays at midnight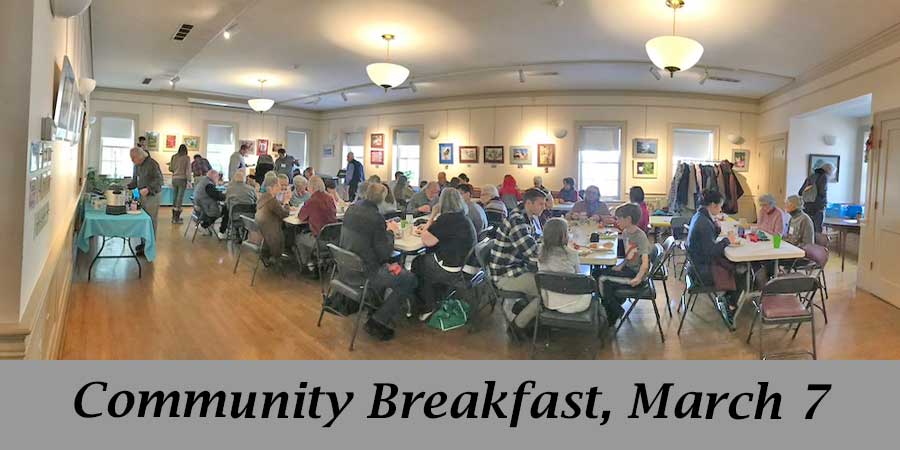 Our first Community Breakfast (renamed from Intergenerational Breakfast) on  Sunday, March 7, was a huge success with over 70 people attending. Thanks especially to the cooks and those who helped set up and clean up. (Panoramic photo from Lorena Boswell)
Jim Serdy, Lizza Vachon and Ian Harrington made delicious crepes and various kinds of pancakes for all.
Staff Evuluations are due Sunday, April 14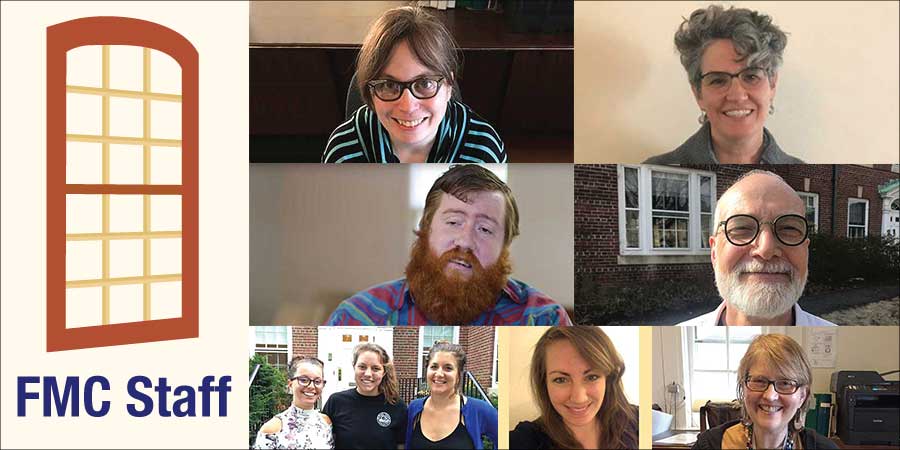 As part of our annual review, we are requesting feedback from all of you who have had interactions with our staff this year. As staff, we would greatly appreciate it if you take the time to offer your perspectives.
Please note: this year's process is different! There are forms for each of the primary staff: Amy Mercure (Office Manager), David Dunphy (Faciities Manager), Greg Woods (Youth and Education Secretary), and Lorena Boswell (Resident Friend). The new forms include both 5 point scales and spaces for comments in different aspects of each person's job. They are easy, interesting and quick for you to fill out. If you don't have time to write comments, please just answer the 5 point scale questions! Of course comments help us understand with more depth what your experience and needs have been and would be greatly appreciated. Forms are available on the cart next to the kitchen in the Friends Center or via email from the Resident Friend, Lorena Boswell, at resident@fmcquaker.org. Annual staff evaluations are a great opportunity for us to hear directly from you about how we're doing, to celebrate where we are meeting your needs, and to learn about how we can improve our service to FMC. Thank you for your time and perspective!
Please return the evaluations for Amy, David and Greg to Lorena. Return the evaluation for Lorena to Jonathan Vogel-Borne at jvb@thebornes.org
Seeking Database Apprentice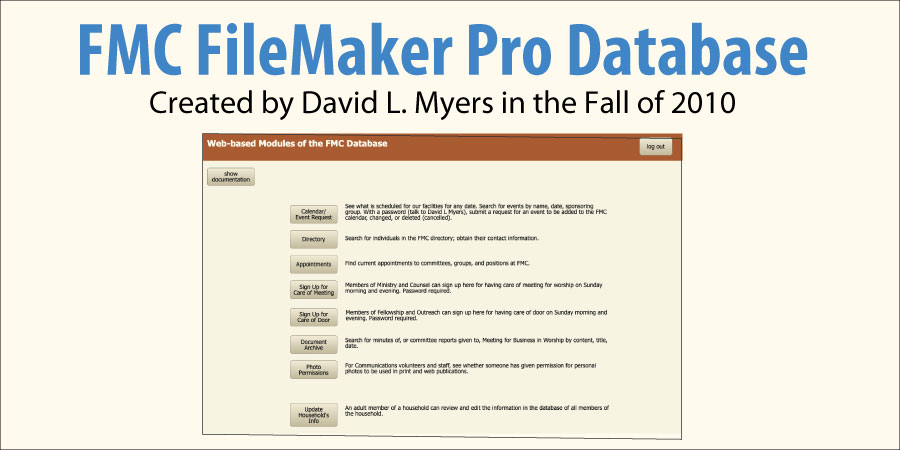 Put your database experience to work in support of a good cause! FMC urgently needs a person to learn our Filemaker Pro database that has been developed and maintained by one person over the last 9 years.  David Myers, also known as the simple lunch guru, is a really cool guy.  Find him in the kitchen any Sunday and check out this opportunity!
New England Yearly Meeting Student Scholarship Grants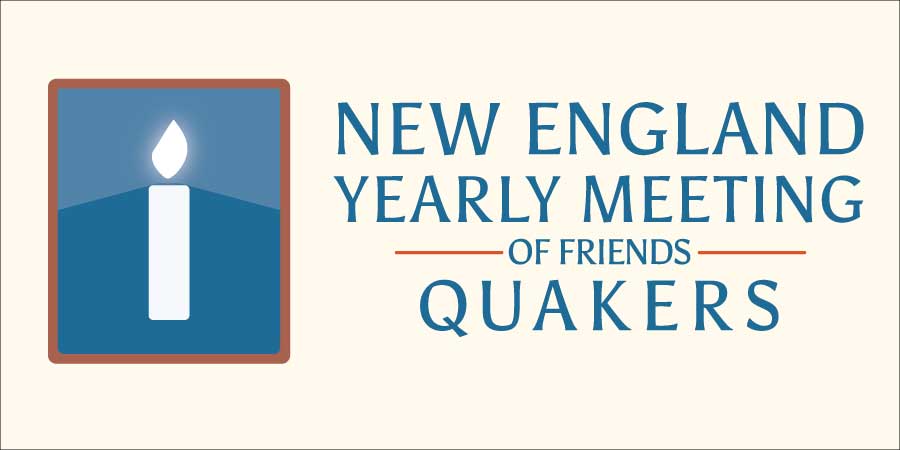 Application deadline: May 15, 2019
New England Yearly Meeting (NEYM) offers grants to students of any age enrolled in post-secondary educational or professional training programs, whether full- or part-time. Awardees are eligible on the basis of spiritual connection to the Religious Society of Friends and participation in NEYM.
You do not have to be a member of a monthly meeting to apply, but you must be committed to Friends' principles and willing to share the role of Quakerism in your life. You should be able to describe in your personal essay what draws you to Quakerism, whether you are an attender or member of a meeting or otherwise connected to Friends. Your references should be chosen carefully to speak to your commitment to Friends principles and your prior participation in the NEYM community.
To apply, complete the Student Financial Assistance application, including a personal statement and two letters of recommendation, one of which must come from the clerk of your Monthly Meeting, a representative of NEYM (for example, a youth programs coordinator or Quaker camp administrator), or a Quaker school teacher or administrator.
For questions and final submission of the application by the May 15th deadline, please contact the NEYM Student Scholarship Grants Committee: neymstudentgrant@gmail.com. Ian Harrington (FMC's Co-Presiding Clerk) is a member of that committee.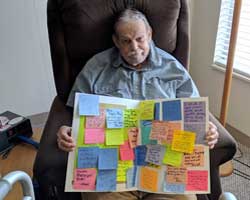 Happy 91st Birthday to Bob Carter! If you might be interested in a worship and visit with Bob, please email Holly Lapp at fellowship@fmcquaker.org for a future date.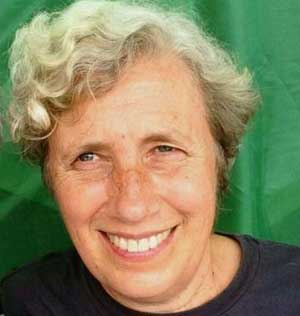 Member Elizabeth (Minga) Claggett-Borne  wrote an article on "Experiments with Worship" that was published in Friends Journal, March, 2019. She says, "The queries are different when worshiping outside a sheltered meetinghouse. Thomas Kelly describes a gathered meeting as when 'A blanket of divine covering comes over a room; a stillness that can be felt over all.' When walking in worship the Spirit is under us, within us, and surrounding us; Spirit is in feet pressing onto root; Spirit is in the sounds of a thrumming city park."
Barbara Owen, a former attender at Friends Meeting at Cambridge, has died. Her memorial will be held at Wellesley Meeting House on Saturday, April 13 at 2:00pm followed by a reception. For further information, please contact Sally Harrison at 339-235-5579.
You will find announcements for all current FMC events on the FMC website, fmcquaker.org on the home page. These events are free, except as noted, and open to the public. Below the announcements you will find the web calendar that can be viewed by the week or month that has in addition regular meetings for worship and committee meetings. These listings do not include non-FMC sponsored events that take place at FMC.
The FMC Quaker home page also has the current announcement sheet, this month's forums, Minutes and Reports for the next business meeting, and this newsletter. Bookmark this page and consult it frequently to keep current on FMC happenings. If you explore further you will find pages of interest to the community and to newcomers. You are encouraged to add your voice to the mix. Send comments and suggestions to Cornelia Parkes at cornelia@fmcquaker.org, who is your friendly website master and newsletter editor.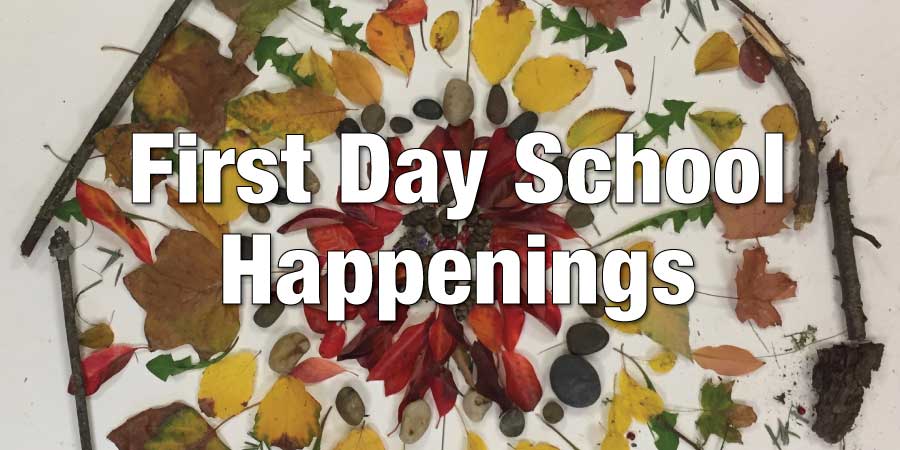 Connecting with Bolivian Friends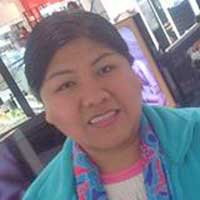 Emma Condori of the Friends International Bilingual Center has begun a project to match Quaker youth in Bolivia and USA. Emma visited FMC last August and talked about her work in Bolivia during a Forum. Our First Day School has been matched up with Villa Exaltacion Friends Church in El Alto, Bolivia, near La Paz. We have written a letter to them and received a letter back. We will send them digital postcards periodically talking about what we are doing in First Day School and asking them more questions. While we have been doing this project in FDS, we have learned about the country of Bolivia and the older youth have talked about the theology of Unprogrammed Friends and Holiness Friends, which Villa Exaltacion belongs to. Holiness Friends are not well known to Quakers in the US because there are only about a couple hundred Friends in Indiana who identify as Holiness Friends but in Latin America there are tens of thousands of Quakers in Bolivia, Guatemala, and Peru.
Easter Egg Creating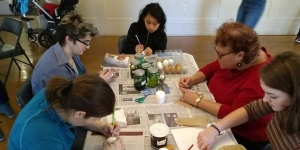 Saturday, April 20, 2:00-4:00pm
Join us in the Friends Room to dye Easter eggs (for younger kids) and create Ukrainian eggs (for teens)! Snacks provided! Youth under 12 must be accompanied by an adult.
Please let Greg Woods youthministries@fmcquaker.org or 413-251-6512 know if you can attend so there will be enough eggs.
Easter Egg Hunt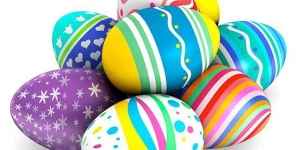 Sunday, April 21, 11:45am-12:15pm
Following worship and First Day School, children will be invited to search for Easter treats hidden by the youth group. Please drop off eggs and items to put in the eggs in the Nursery before worship.
Questions? Ask Greg Woods youthministries@fmcquaker.org or 413-251-6512.
Youth Group / Friends Camp Pizza and Game Night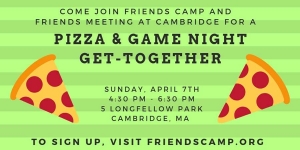 Sunday, April 7, from 4:30 – 6:30 pm
Current and past Friends Camp campers are invited to join the FMC youth group for pizza and games. Parents are invited to join the Sunday evening worship from 5-6 pm.
Please let Greg Woods, Youth and Education Minister, know at youthministries@fmcquaker.org or 413-251-6512, if you are planning to attend so that we can plan the food.
Family Retreat in Alfred, Maine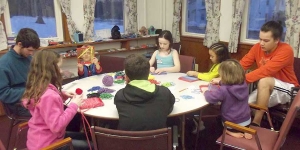 Come together to share fellowship, outdoor play, nature walks, and worship in beautiful Alfred, Maine. Our annual family retreat begins at lunch on Saturday at noon, ending early afternoon Monday. Register with Greg Woods, Youth Ministries and Education Coordinator, youthministries@fmcquaker.org or 413-251-6512. Fees for this retreat will be $150 for adults and $75 for children (ages 5-11). Children under 4 are free. Scholarships are available for those who need financial assistance. More information will be available soon, but just wanted to let you all know about this date.
Parents' Listserv
Something that come up at the Parents' Meeting is a desire for parents to be able to communicate with each other as a group. To facilitate this, I have set up a listserv through Google: https://groups.google.com/d/forum/fmc-parents. If you have an Google account, you can request access. If you don't have an Google account,please let me know and I can add you.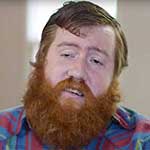 Greg Woods, Youth Ministries & Education Coordinator
youthministries@fmcquaker.org or 413-251-6512
Nine Month Nurturing Faithfulness Program Returns in 2019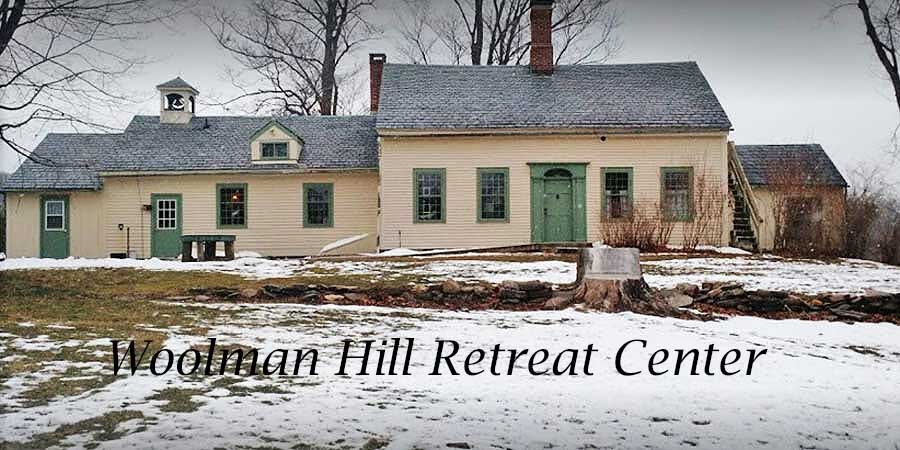 Nurturing Faithfulness is a program for individuals who have a spiritual nudge to orient one's heart towards the Divine, be more faithful in discerning gifts and leadings, and nurture one's home spiritual community. Perhaps you know someone who participated in the first iteration of this program, called Nurturing Worship, Faith, and Faithfulness. Good news is: we're offering this program again! Take a look at the Woolman Hill website for more information or keep reading.
Nurturing Faithfulness is a 9-month program consisting of three residencies at Woolman Hill in Deerfield, MA (August 2019, December 2019, and May 2020), monthly webinars (that are actually connective and grounding), readings, and small-group opportunities for deepening relationships through local care committees and Faithfulness Groups.
Co-teachers for Nurturing Faithfulness are Hilary Burgin (Beacon Hill Friends Meeting, NEYM) and Marcelle Martin (Swarthmore Monthly Meeting, Philaadelphia Yearly Meeting). This program is co-sponsored by Woolman Hill and New England Yearly Meeting. For more information take a look at our video.
Applications are due in Spring 2019, so we encourage you to start considering if this program might be right for you. If you RSVP to Marcelle Martin (link sends e-mail), we will also send you a reminder about the informational webinar and the application.
Early application deadline, with priority for NEYM Friends: April 1, 2019
Final application deadline: July 22, 2019.
NEYM Sessions August 3-8, 2019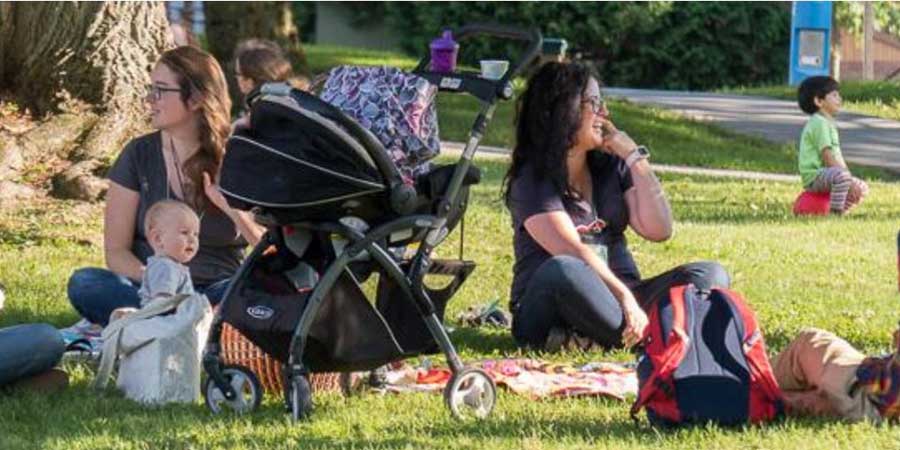 Image by © Skip Schiel, teeksaphoto.org
Each August, more than 600 Friends, come together for worship, fellowship and seeking how God will guide us in meeting for business. Having first gathered in 1661, New England Yearly Meeting of Friends is the oldest "yearly meeting" in the Quaker world. While this gathering is large—among the largest Quaker events in North America—there are many opportunities to connect with Friends old and new: vibrant youth programs, adult small groups, variety shows, topical interest sessions and shared meals. In recent years, Sessions has featured plenary addresses, Bible Half-Hours, a contra-dance, and coffeehouse. Our 2019 theme is "Provoke one another to Love." For more information about the Bible Half-Hour and Plenary Speakers for 2019, click here.
Other Events on the NEYM Calendar
Events at Beacon Hill Friends House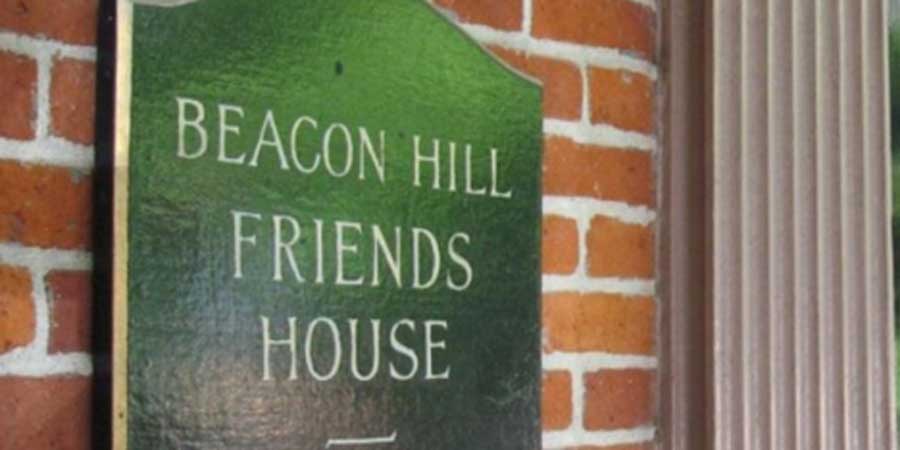 Clerking and Friends Decision Making Workshop
Saturday, April 13 from 9:00am-4:30pm
Beacon Hill Friends House
Join Friends to develop skills in Quaker decision-making processes in our Meetings and committees. We are offering two workshops to help community members gain more knowledge and skills. These workshops are open to all. We especially encourage people who are currently clerks of meetings, committees or other groups, as well people who would like to become more active participants or leaders themselves. The workshops will be led by Fritz Weiss and Jacqueline Stillwell, current and past presiding clerks of New England Yearly Meeting. The workshop is in two parts. Friends are invited to attend either the morning session or both sessions. (Attending the afternoon session alone is not recommended: the morning session is a prerequisite.)
This workshop is sponsored by the Coordinating and Advisory committee of NEYM, and hosted at the Beacon Hill Friends House. Please register on Eventbrite so we know how many people to expect. Questions about the workshop may be directed to Jackie Stillwell at (603) 933-2608 or jacqueline.stillwell@gmail.com or Fritz Weiss at clerk@neym.org.
Childcare is available by advance request (email program@bhfh.org). Please let us know by April 1 if you need childcare. We will do our best to accommodate you if you make the request afterward, but it can be difficult to find a childcare provider on short notice.
How We Win: A Workshop with George Lakey on Nonviolent Direct Action Campaigning
*New date added* Tuesday, May 7, 6-9pm
Beacon Hill Friends House
George Lakey returns! Our March 30 workshop sold out so fast that we had to bring George back to do it again. In this interactive workshop led by movement veteran George Lakey, participants will engage in a lively exploration of how to use direct action campaigns to build power toward a movement of movements.
Sliding scale admission. Advance registration required. Workshop 6-9pm; come at 5:30 for a BYO bag supper in community. Light snacks provided. Childcare available by advance request. Wheelchair accessible room. Cosponsored by the Boston Democratic Socialists of America.
Advance registration is required. Please click here to register on Eventbrite.
Advocacy for the Long Haul: An FCNL Workshop & Team Launch
Sunday, May 20
Brown bag lunch at 12:30 pm
Beacon Hill Friends House
What can we do to change what's happening in this country? For over 75 years, the Friends Committee on National Legislation (FCNL) has shown that our voices can make an impact on federal policy. Join Sarah Freeman-Woolpert of FCNL for an inspiring workshop that will provide concrete strategies for effective advocacy and a structure for taking next steps together.
Learn to:
Influence your members of Congress and their staff through face-to-face conversations.
Drive the media coverage you want to see.
Build a strategic team in your community that lobbies as part of a powerful national advocacy network.
Join FCNL's 2019 Advocacy Team campaign to stop endless wars by urging Congress to reassert its constitutional authority. Advocacy Teams are supporting legislation to repeal the Automatic Authorization of Military Force (AUMF) and encourage public debate on all issues of war and peace.
RSVP requested. Childcare is available upon request.
Discounts for Friends General Conference 2019 Gathering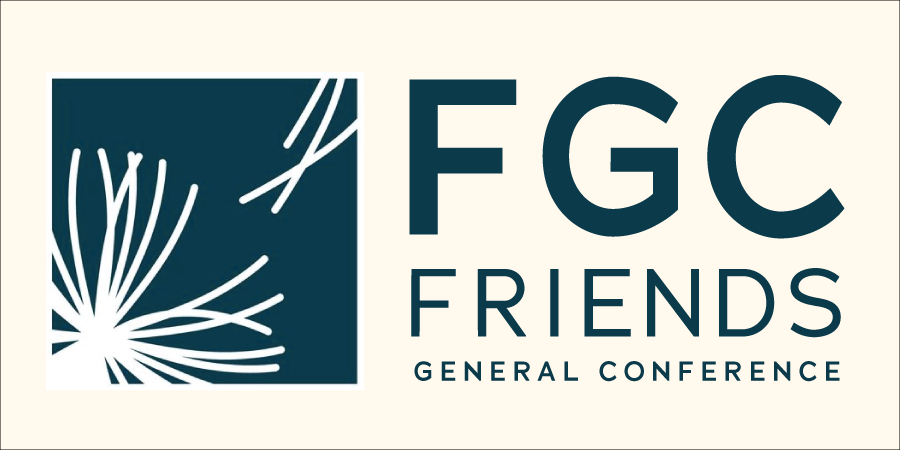 Thanks to a generous donation, Friends General Conference (FGC) is offering discounts for the 2019 Gathering!
Children and teen's program fees are waived.
50% of children and teen's meals are covered.
More scholarships are available to families and teens.
The fee for young adult Friends is reduced.
Location: Grinnell College in Grinnell, IA
Early Registration: April 1-14, 2019!
Dates: June 30-July 6, 2019
Theme: Peace in Our Hearts, Justice in the World
Click here to find out more about the 2019 FGC Gathering in Grinnell, Iowa.
Friends General Conference is a North American association of Quaker groups of which New England Yearly Meeting of Friends is a member.
Cambridge Friends School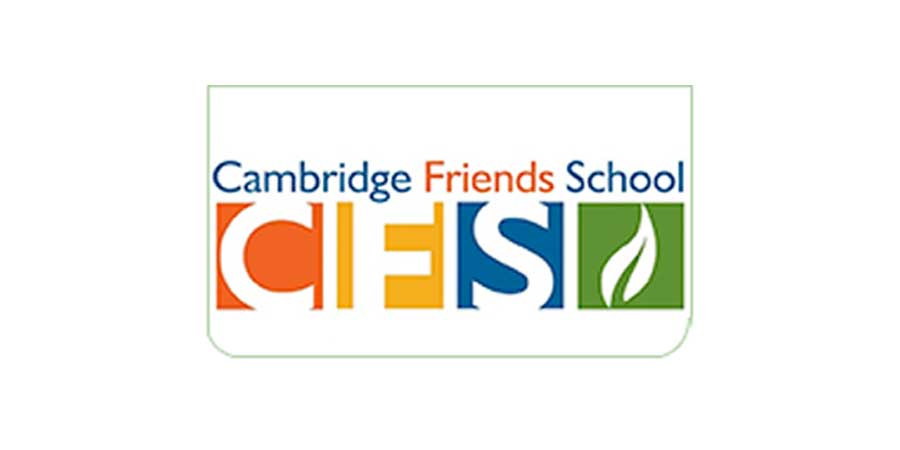 CFS All-School Worship
Tuesday, April 2 from 8:30am-9:00am
All School Meeting for Worship in the gym. All are welcome to attend.
No Ashes in the Fire: Race and Gender in America
Thursday, April 4, at 4-5:15pm
Join us at CFS for a conversation around one of Oprah's Top Books of Summer, No Ashes in the Fire. Author Darnell L. Moore will discuss race and racial experiences, and important tools and techniques for anti-racism with Jack Hill, anti-racist educator and CFS Head of Middle School and Director of Diversity, Equity, and Inclusion. Darnell will be available for book signings after the discussion. Books are available to purchase during the registration process, with limited quantities available at the door.
Questions? Contact: Diane Marangoly at 617-354-3880 ext. 117
$20 suggested donation in advance; $25 at the door
Register online here.
CFS Pre-K/Kindergarten Open House
Saturday, April 6 at 10:00am-12:00pm
Join us for this Open House specifically for students ages 3-5 who are looking for Pre-K and Kindergarten for the 2019 or 2020 school years. We are excited to welcome visitors to campus. This family-friendly event will feature hands-on projects and experiences for students, as well as an opportunity for parents to meet teachers, current parents, and staff to learn more about our unique educational philosophy. As the only Quaker school in Massachusetts, we would love for your families to know about this event! RSVP to cfsadmission@cfsmass.org or 617-354-3880 ext. 144.
Live Performance: Beheard.world
Wednesday, April 24 from 6:30-8:30pm
JoinCFS for a contemporary dance event with Beheard.world, a dance troupe that focuses on movement and poetry to explore racism in America that was founded by professional dancer, Anna Myer (CFS Class of 1970). Since its founding in 1992, Anna Myer and Dancers have performed Anna Myer's innovative choreography to a steadily growing audience throughout the Northeast, most notably in Boston and New York City, and to the acclaim of some of the country's most prominent dance critics. Myer's unique language of movement is a fusion of her classical, modern, and postmodern background. Her dances are emotionally charged and infused with a keen formal intelligence.
We hope you can attend this creative exchange for social change! Register online here .
Suggested donation $15 in advance, $20 at the door.