November Minutes & Reports Due, Monday, November 5, 2018
November Business Meeting, 1:15pm, November 11, 2018
November Newsletter Due, Monday, November 19, 2018
Announcement Sheet Due, Mondays at midnight
Sanctuary Coalition – Fall 2018 News Update and Invitation to Join in the Work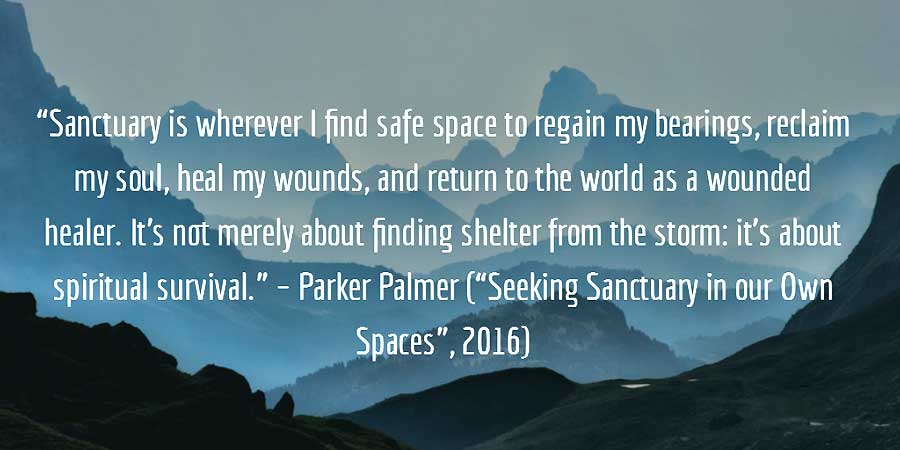 Friends Meeting at Cambridge has been part of the 11 congregation Cambridge Interfaith Sanctuary Coalition since May of 2017. At this point 25 – 30 members of our FMC community participate in the work on a regular basis, and we could use more volunteers. The coalition's guests, a mother and her two young children, have been living in space provided by University Lutheran Church in Harvard Square for over 15 months due to the current administration's immigration policies.
Volunteers with the coalition are involved in a variety of ways. Some accompany undocumented immigrants to their court appointments, some attend hearings and engage in other efforts to change legislation, and some spend time, in four-hour shifts twice a month, with our sanctuary family at University Lutheran Church, or help with food purchases and deliveries, or take the two young children on outings.
We very much need more volunteers to help in this work. If you are interested please reach out to Susan Davies or any others of us working with the coalition. We would love to tell you more.
Susan Davies at sanctuary@fmcquaker.org.
The Common Strummers
The Common Strummers (FMC Friends from left to right – David Bonner, Molly Watt, Dan Watt and Polly Stevens) played ukulele and lead singing at Midnight Voices (co-sponsored by Peace & Social Concerns Committee) on Thursday, October 18 in the Friends Room. Midnight Voices takes place on third Thursdays at FMC and there are open mic slots for readers and performers each month.
A Procession of Friends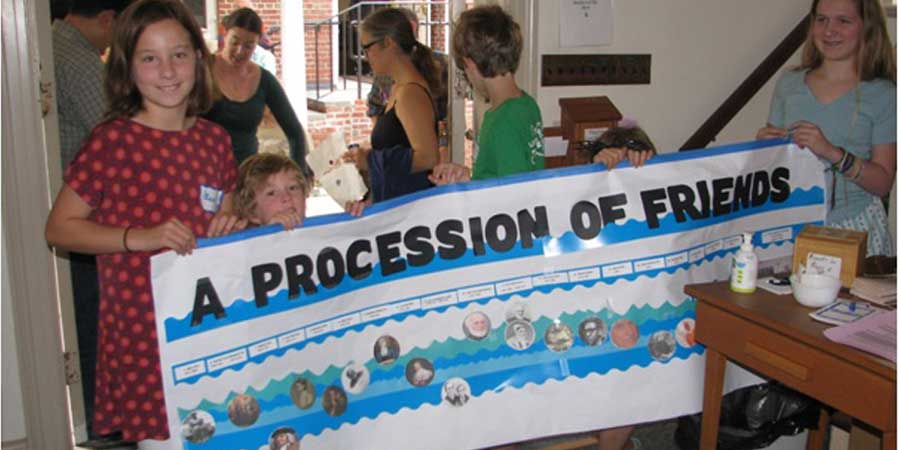 To celebrate World Quaker Day (October 7, 2018) fifty-four Friends (young and older) gathered in the Friends Room or Family Worship where they created a Procession of Friends banner and talked about the contributions of various Quakers through the ages.  The group from Family Worship then shared about their banner and their worship with those gathered in the Meetinghouse at the rise of regular Meeting for Worship.  The banner (and Quaker biographical info) is on display downstairs in the hall in the First Day School.
Autumn Mandala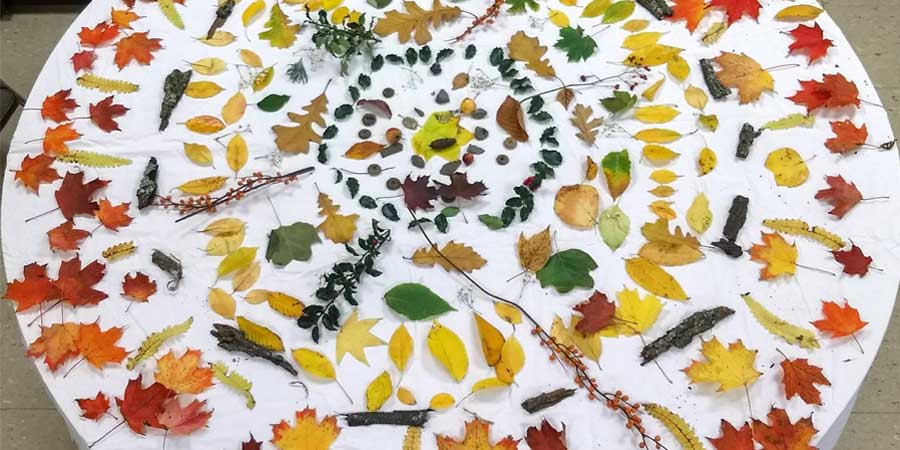 First Day School students and some adult volunteers gathered again this year at FMC during All-Meeting for Worship at Raytheon on October 21, 2018 to create this beautiful mandala with found nature objects.
Slippers in Meeting for Worship are Great!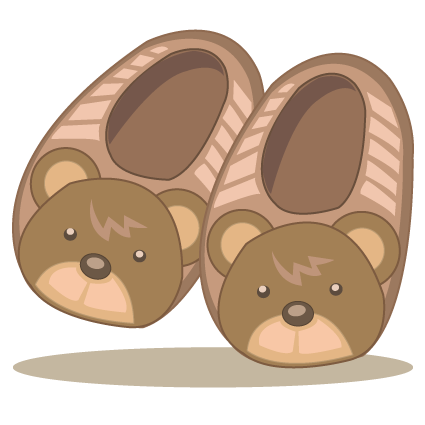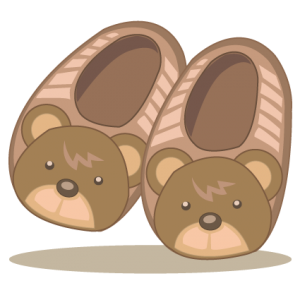 Does curling up next to the fire in your slippers sound appealing? This is a gentle reminder to bring slippers to Meeting to save the wear and tear on our floors and rugs, especially during wet and/or snowy days. We certainly do not wish to cause hardship for anyone, but for those of us able to bring a change of footgear, every little bit helps. Slippers to borrow are available in the Meetinghouse and entryway to the Friends Center. Put your wet/salty/snowy footwear in the plastic trays.
Community-Wide Zoom Link Schedule
The community-wide zoom link schedule for the week includes worship times as well as some other scheduled activities. If nothing is scheduled, the Zoom link is open for you to socialize or create an impromptu event. The open time is a no-host space, please honor it and each other. If enjoying fellowship together, please be sure to check the calendar so that you know when events are scheduled and honor the transitions from open to programmed.
In the weeks to come, please let us know if you'd like to host an online event (what's your talent or passion you'd like to share? Maybe you'd like to create a children's hour?) To check the most current availability and to put something onto the schedule, please contact Amy in the office at
office@fmcquaker.org
.

Click here to view schedule in Google Sheets
On Civil Disobedience — A Conversation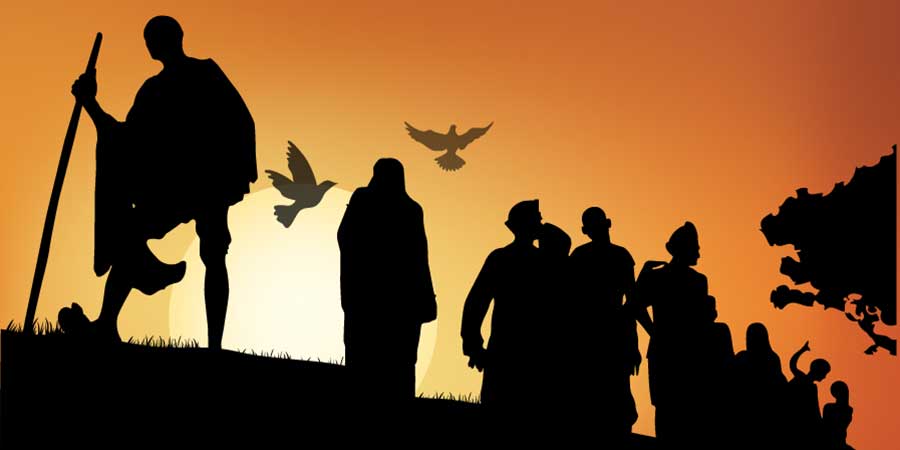 Sunday, November 18, at 12pm Lewis Randa of the Peace Abbey in Sherborn, MA and criminal defense trial lawyer, Gregory R. Barison will speak at Wellesley Friends Meeting, 26 Benvenue Street, Wellesley, MA.  The talk will provide an opportunity to gain insight and understanding of civil disobedience as an act of conscience. Six different actions with, or on behalf of, students from The Life Experience School will provide the context for the discussion.
Cambridge Friends School Used Book Sale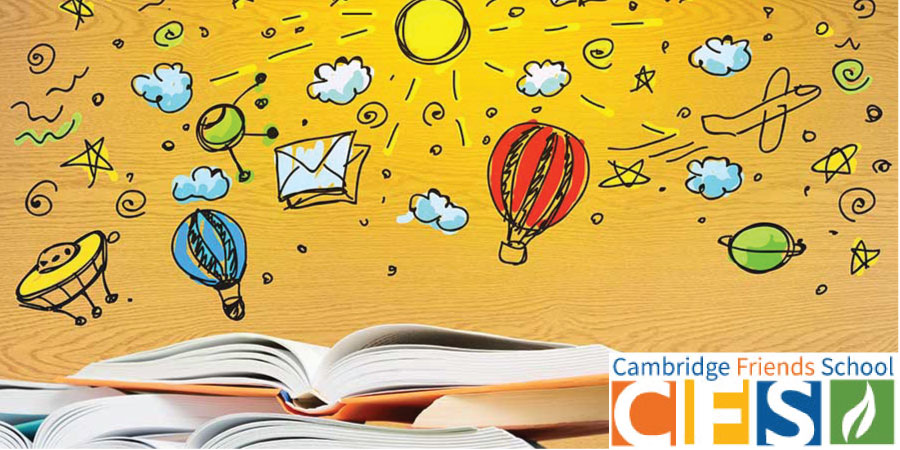 Wednesday, November 14 to Friday, November 16, 4-6pm
and Saturday, November 17, 8am–2pm
Donations Accepted 11/5 through 11/9, 8am–4pm
Cambridge Friends School (CFS) is accepting donations of books in good condition (both children's and adult literature, coffee table books, cookbooks, etc.). Please do not bring in CDs, DVDs, textbooks, VHS videos, cassettes, records, games or puzzles. If possible, please separate children's and adult books—it makes set up easier.
Quaker Voluntary Service (QVS)
2018-2019 QVS Boston Fellows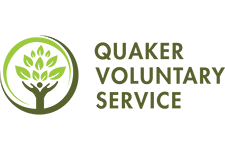 The Quaker Voluntary Service (QVS) year has begun with eight fellows living in their house in Dorchester and working at social service/change agencies in the Boston area, with support from Friends Meeting at Cambridge, other local meetings, and many individuals.
Read all about the 2018-19 QVS fellows, their bios, and placements here.
Adult Forum (9:30am Sundays)
Forums are informal devotional discussions, usually with a leader and about a particular topic. They meet in the parlor and are designed to help those who attend prepare for meeting for worship. All are welcome. Forums provide good opportunities for new members, attenders, and visitors to learn more about our Meeting and what issues are of concern to the Meeting, and to get to know other individuals in the Meeting. Childcare is provided beginning at 9:15.